Nithin KM, Employee at John Distilleries Pvt Ltd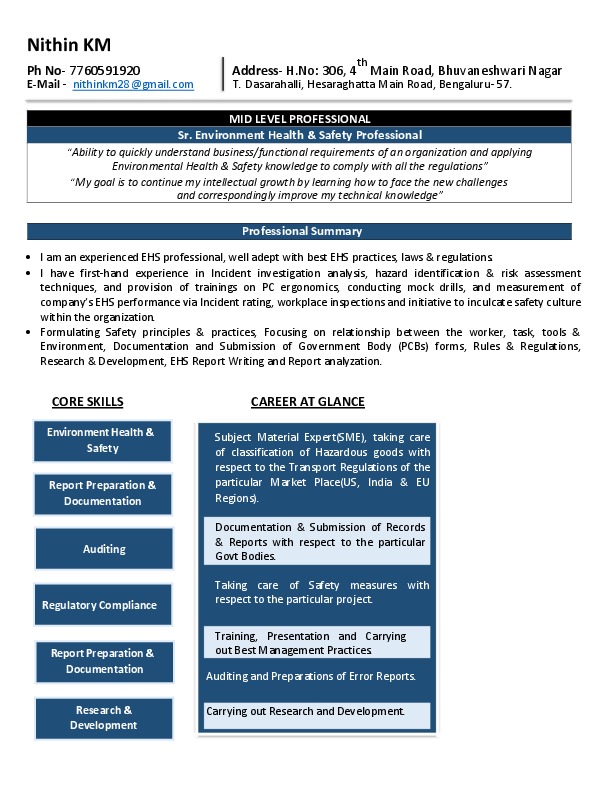 I would like to introduce myself through this letter, Mr . NithinKM , pursued M.Tech in Environmental Engineering (ENV).
Masters in Technology in ENV is designed to taking care of Environment Health & Safety(EHS), Impart necessary Pollution Control skills for engineers with the specific focus on sustainable development.
I presently work as an Sr. HSE Lead for John Distilleries Pvt. Ltd , Goa. I have been taking care of EHS Monitoring and Safety Audit, Compliance audit of the project site, Statutory Approvals, Preparing EIA & Sustainable Report, Environmental Monitoring of the corporate office. Submitting Compliance reports to the regulatory bodies ( Respective Pollution Control Boards (PCB) & MoEF ) .
Well aware of all the EHS aspects, Rules & Regulations, Documentation of forms, report writing and submission of the same to the Govt bodies and to Pollution Control Bodies.
Course Completion - under NEBOSH-UK, Level: 6 (IDIP- NEBOSH)
· International workplace and work equipment safety.
· International Control of Hazardous Agents in the Workplace.
Passionate about all the environmental Health & Safety related topics and updating myself with the in-depth knowledge about it. I have a proven track record of responsibility, integrity. I am comfortable working independently or as part of a team.