Sea of Opportunity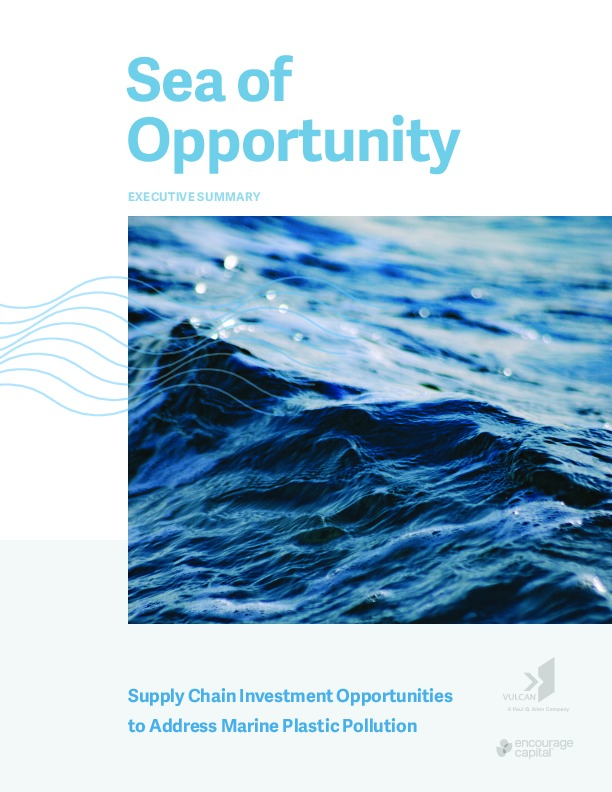 Citation
Moss, E., Eidson, A., and Jambeck J., 2017. Sea of Opportunity: Supply Chain Investment Opportunities to Address Marine Plastic Pollution, Encourage Capital on behalf of Vulcan, Inc., New York.
Philanthropist Paul G. Allen funded this report in response to concerns around declining ocean health. With the millions of metric tons of plastics being dumped into our ocean annually, this report identifies potential investments that can most efficiently and effectively help to disrupt the plastics supply chain and prevent plastics pollution in the first place.
Mr. Allen's unique data and technology-driven approach to some of the world's toughest challenges catalyses innovation, improves policy, and accelerates change for the better. This report can have the same effect on the future of our oceans.
Source: http://plasticreport.vulcan.com/about-the-report/
You will find in attachment a summary of this report,
Full version is available here: http://plasticreport.vulcan.com/wp-content/uploads/2017/02/Sea-of-Opportunity_Full_Final-Digital.pdf