Microplastic ingestion ubiquitous in marine turtles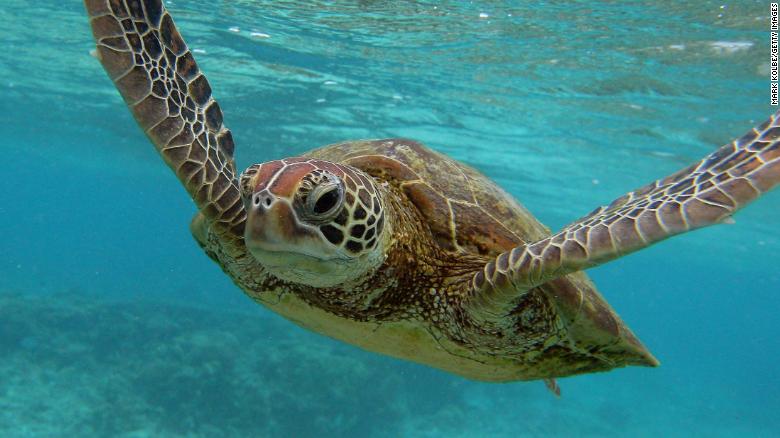 A new study find microplastics in guts of every species of sea turtle across world.
Emily M. Duncan, Annette C. Broderick, Wayne J. Fuller, Tamara S. Galloway, Matthew H. Godfrey, Mark Hamann, Colin J. Limpus, Penelope K. Lindeque, Andrew G. Mayes, Lucy C. M. Omeyer, David Santillo, Robin T. E. Snape, Brendan J. Godley. Microplastic ingestion ubiquitous in marine turtles. Global Change Biology.
Abstract
Despite concerns regarding the environmental impacts of microplastics, knowledge of the incidence and levels of synthetic particles in large marine vertebrates is lacking.
Here, we utilize an optimized enzymatic digestion methodology, previously developed for zooplankton, to explore whether synthetic particles could be isolated from marine turtle ingesta.
We report the presence of synthetic particles in every turtle subjected to investigation (n = 102) which included individuals from all seven species of marine turtle, sampled from three ocean basins (Atlantic [ATL]: n = 30, four species; Mediterranean (MED): n = 56, two species; Pacific (PAC): n = 16, five species). Most particles (n = 811) were fibres (ATL: 77.1% MED: 85.3% PAC: 64.8%) with blue and black being the dominant colours.
In lesser quantities were fragments (ATL: 22.9%: MED: 14.7% PAC: 20.2%) and microbeads (4.8%; PAC only; to our knowledge the first isolation of microbeads from marine megavertebrates).
Fourier transform infrared spectroscopy (FT‐IR) of a subsample of particles (n = 169) showed a range of synthetic materials such as elastomers (MED: 61.2%; PAC: 3.4%), thermoplastics (ATL: 36.8%: MED: 20.7% PAC: 27.7%) and synthetic regenerated cellulosic fibres (SRCF; ATL: 63.2%: MED: 5.8% PAC: 68.9%).
Synthetic particles being isolated from species occupying different trophic levels suggest the possibility of multiple ingestion pathways. These include exposure from polluted seawater and sediments and/or additional trophic transfer from contaminated prey/forage items.
We assess the likelihood that microplastic ingestion presents a significant conservation problem at current levels compared to other anthropogenic threats.
Source: https://onlinelibrary.wiley.com/doi/full/10.1111/gcb.14519