Frequency of Microplastics in Mesopelagic Fishes from the Northwest Atlantic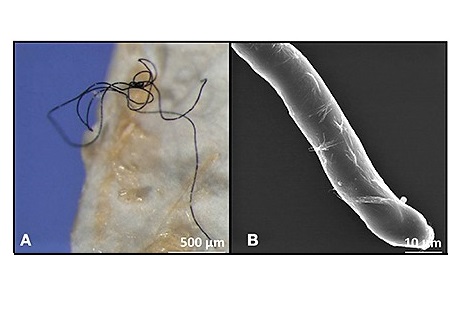 A new study finds 73 percent of mesopelagic fish caught in the Northwest Atlantic had microplastics in their stomachs -- one of the highest levels globally.
Typically living at depths of 200-1,000 meters, these fish could spread microplastic pollution throughout the marine ecosystem, by carrying microplastics from the surface down to deeper waters. They are also prey for fish eaten by humans, meaning that microplastics could indirectly contaminate our food supply.
Alina M. Wieczorek, Liam Morrison, Peter L. Croot, A. Louise Allcock, Eoin MacLoughlin, Olivier Savard, Hannah Brownlow and Thomas K. Doyle (2018) Frequency of Microplastics in Mesopelagic Fishes from the Northwest Atlantic. Front. Mar. Sci . 5:39. doi: 10.3389/fmars.2018.00039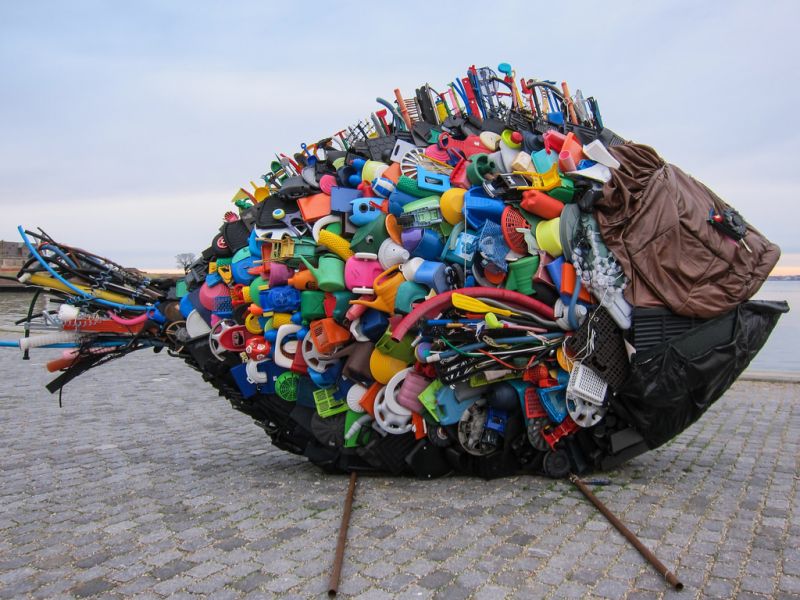 Plastic Fish (Plastfisk), Artistic Expression, Source: Flickr, Author: erik forsberg , Labeled for Reuse
Abstract
Microplastics are a ubiquitous pollutant in our seas today and are known to have detrimental effects on a variety of organisms. Over the past decade numerous studies have documented microplastic ingestion by marine species with more recent investigations focussing on the secondary impacts of microplastic ingestion on ecosystem processes.
However, few studies so far have examined microplastic ingestion by mesopelagic fish which are one of the most abundant pelagic groups in our oceans and through their vertical migrations are known to contribute significantly to the rapid transport of carbon and nutrients to the deep sea. Therefore, any ingestion of microplastics by mesopelagic fish may adversely affect this cycling and may aid in transport of microplastics from surface waters to the deep-sea benthos.
In this study microplastics were extracted from mesopelagic fish under forensic conditions and analysed for polymer type utilising micro-Fourier Transform Infrared Spectroscopy (micro-FTIR) analysis. Fish specimens were collected from depth (300–600 m) in a warm-core eddy located in the Northwest Atlantic, 1,200 km due west of Newfoundland during April and May 2015. In total, 233 fish gut contents from seven different species of mesopelagic fish were examined.
An alkaline dissolution of organic materials from extracted stomach contents was performed and the solution filtered over a 0.7 μm borosilicate filter. Filters were examined for microplastics and a subsample originating from 35 fish was further analysed for polymer type through micro-FTIR analysis.
Seventy-three percent of all fish contained plastics in their gut contents with Gonostoma denudatum having the highest ingestion rate (100%) followed by Serrivomer beanii (93%) and Lampanyctus macdonaldi (75%). Overall, we found a much higher occurrence of microplastic fragments, mainly polyethylene fibres, in the gut contents of mesopelagic fish than previously reported.
Stomach fullness, species and the depth at which fish were caught at, were found to have no effect on the amount of microplastics found in the gut contents. However, these plastics were similar to those sampled from the surface water. Additionally, using forensic techniques we were able to highlight that fibres are a real concern rather than an artefact of airborne contamination.
Keywords: myctophids, marine litter, micro-FTIR, fibres, eddy, deep sea, biogeochemical cycling, carbon
sequestration