WEATHER-MIC microplastic sampling campaign in Cuba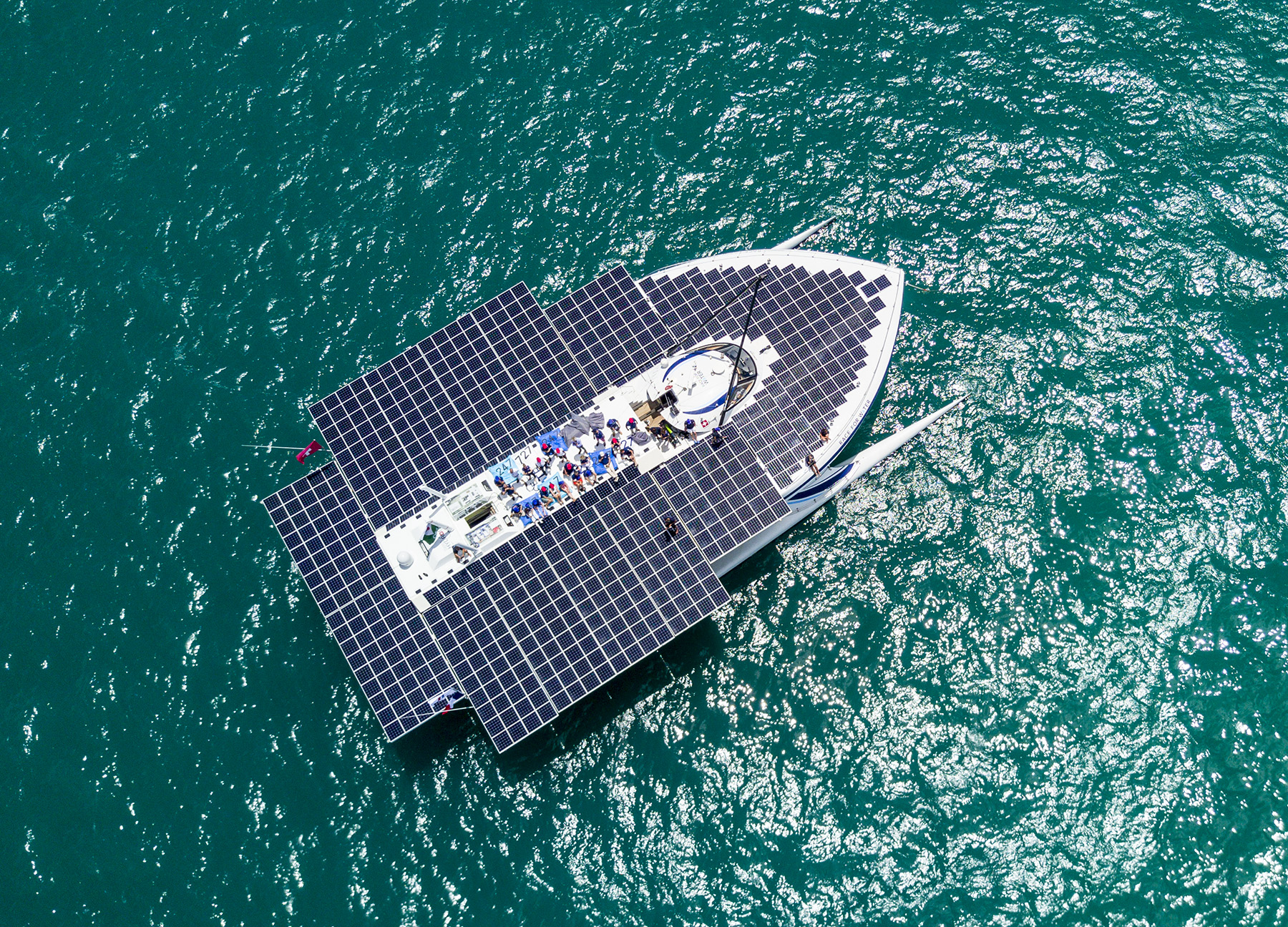 Last day on board the Race for Water platform for our norwegian team of NGI to complete their WEATHER-MIC micro plastic sampling campaign in Cuba !
The norwegian team and the crew on the top of the Race for Water Ambassador Vessel in Cuba ​© Peter Charaf / Race for Water
This WEATHER-MIC campaign in Cuba is lead by Hans Peter Heinrich Arp, Senior specialist principal engineer at the Norwegian Geotechnical Institute (NGI) and one of the main coordinator of the JPI Oceans - WEATHER-MIC project. He is accompanied by Linn Merethe Brekke Olsen, who has been working with him on microplastic research for over a year. In addition, a new Masters student, Øyvind Lilleeng is also with them to analyse the samples collected in Cuba as part of his Master's thesis.
This micro plastic sampling campaign is a first one in Cuba ! Surprising us the cuban population is not all aware about the micro plastic pollution issue.
A beautiful collaboration has taken place between Prof. Carlos Alonso-Hernadez from the CEAC (Centro de Estudios Ambientales de Cienfuegos) and Hans Peter from NGI supported by the Race for Water platform. Carlos gave his precious support to obtain all the necessary permits and he was invited to come on board of the Race for Water with other marine researchers of the CEAC to be part of this microplastics sampling campaign. Thus the samples will be split and analysed both in Cuba (with CEAC) and in Norway (with NGI and other WEATHER-MIC project partners) which will lead to a joint publication!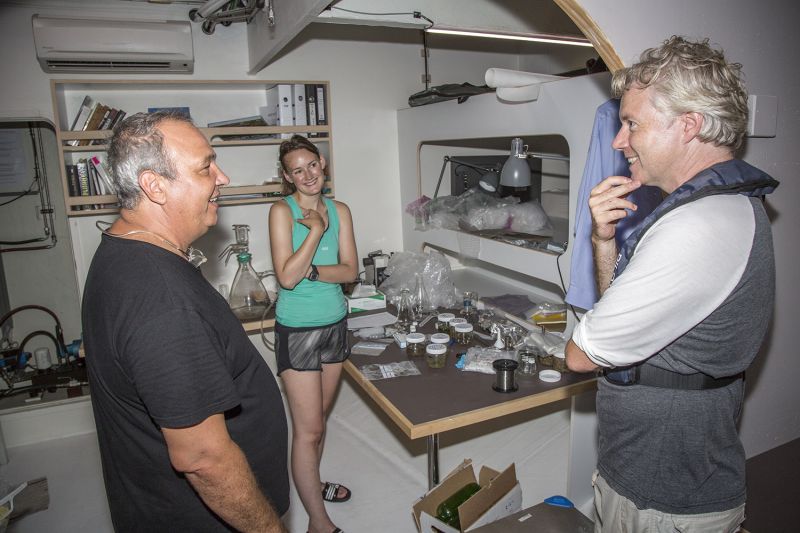 Left to right: Professor Carlos Alonso-Hernandez (CEAC), Linn Merethe Brekke Olsen (NGI) and Dc. Hans Peter Heinrich Arp (NGI). ​© Peter Charaf / Race for Water
The navigation was composed of long days sailing alternating water, sediment and plankton samples close the Havana coast and outward. These first samples reveals a high micro plastic concentration in Havana Bay and outward but maybe less concentrated that in the Sargasso sea.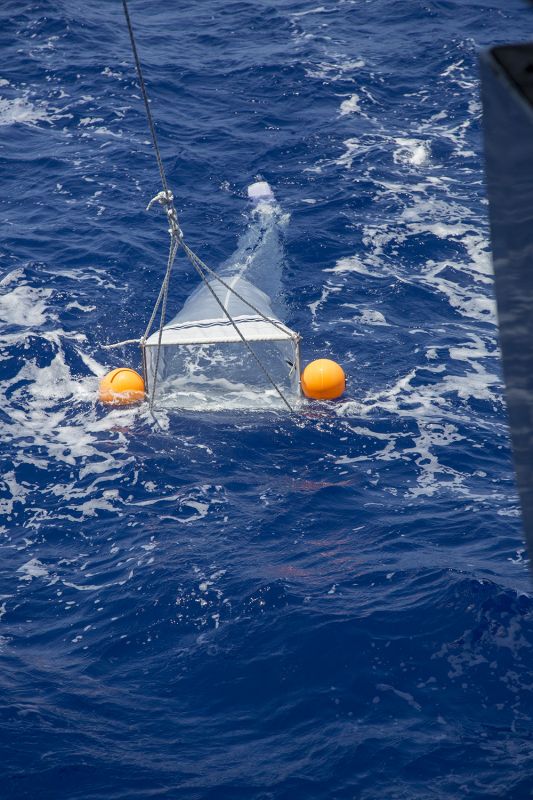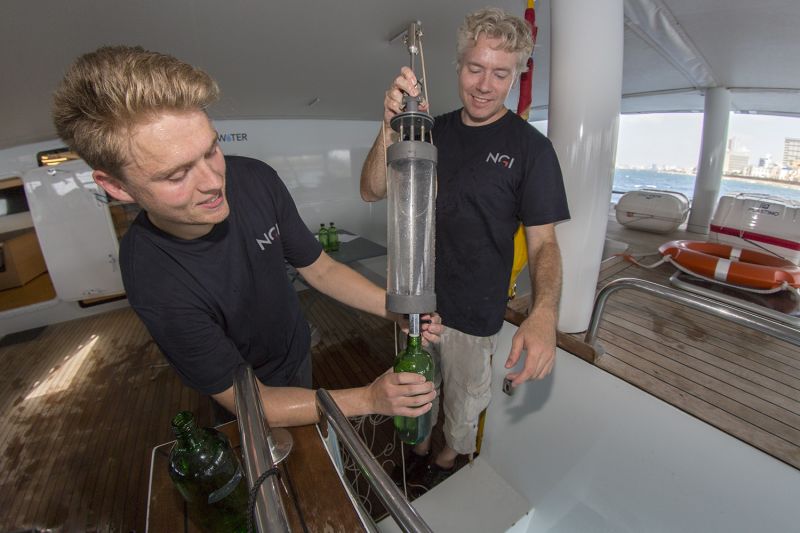 The Manta net in use / Øyvind Lilleeng and Hans Peter H. Arp collecting water samples in Cuba. ​© Peter Charaf / Race for Water
For more information on this WEATHER-MIC mission in Cuba, please have a look to Hans Peter Arp testimony on our Race for Water Odyssey blog at: http://odyssey.raceforwater.org/operation-weather-mic-a-cuba/?lang=en.