Plastic Gets a Do-Over: Breakthrough Discovery Recycles Plastic From the Inside Out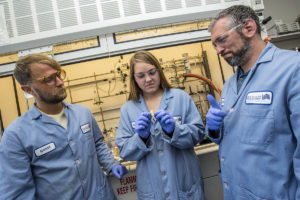 Plastic Gets a Do-Over: Breakthrough Discovery Recycles Plastic From the Inside Out
Left to right: Peter Christensen, Kathryn Loeffler, and Brett Helms. (Credit: Marilyn Chung/Berkeley Lab)
Because plastics contain various additives, like dyes, fillers, or flame retardants, very few plastics can be recycled without loss in performance or aesthetics.
Now a team of researchers at Berkeley Lab has designed a recyclable plastic that, like a Lego playset, can be disassembled into its constituent parts at the molecular level, and then reassembled into a different shape, texture, and color again and again without loss of performance or quality.
The new material, called poly(diketoenamine), or PDK, was reported in the journal Nature Chemistry. Full story here.