Meet the next generation turning the tide on plastic pollution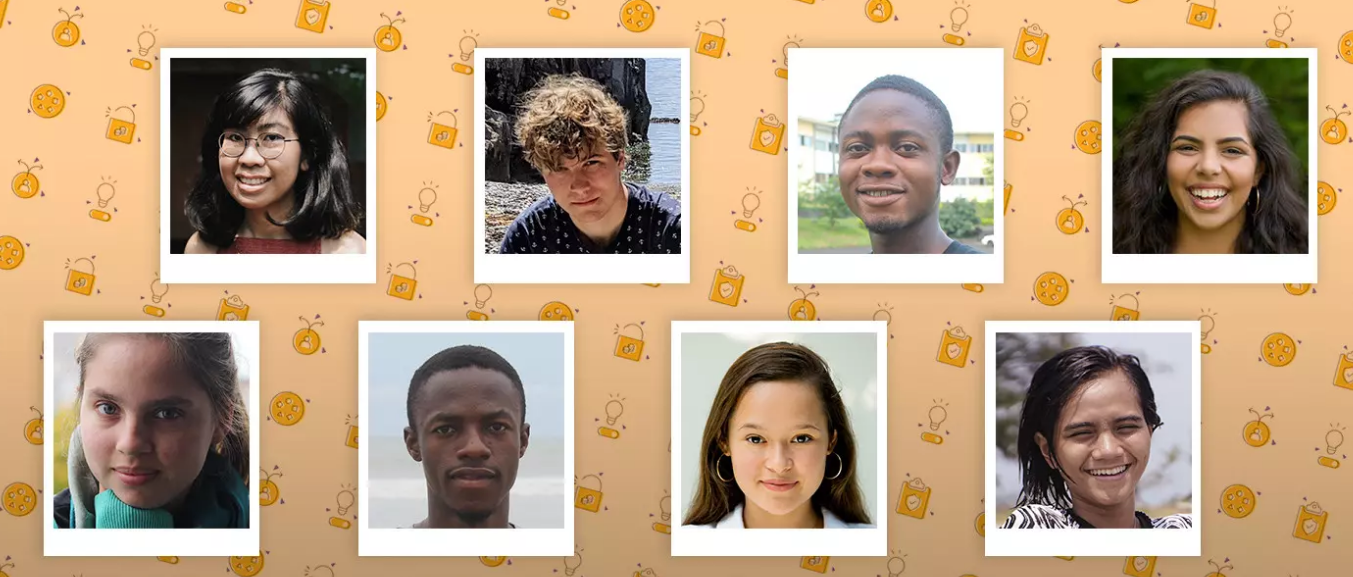 The pandemic has exacerbated the already severe problem of plastic pollution.
Here are eight young people from around the world who are leading the fight against our throwaway culture.
During a year already heavily burdened by a global pandemic, the environment has suffered too. Existing challenges, like managing plastic waste, were exacerbated by a flood of single-use personal protective equipment, takeaway cups and containers, alongside a slew of COVID-19-related budget cuts slashing recycling and waste recovery capacity.
Prior to this shock, the Western world recycled only 10% of its plastic waste. This number is often far lower in the developing world, despite nearly 15 million waste pickers collecting plastic from beaches, open dumps and urban streets. Yet recycling is only one piece of the puzzle in building a circular supply chain for plastics.
Frustrated by decades of slow progress on this issue, young people are waging war on plastic pollution in local communities and on the global stage.
Meet eight determined young leaders forming the inaugural cohort of the Global Plastic Action Partnership's Plastic Action Champions , launched this month. We asked each leader to share their call to action for 2021.
Andhyta Firselly Utami, 28
Based in Indonesia, a country facing an enormous plastic pollution challenge, 'Afu' is an environmental economist at the World Bank where she leads research on incentive schemes for the circular economy. Afu provides analytical support to the government, identifying policy options to reduce marine plastic pollution.
" Government and business leaders need to come together and keep each other accountable for their own commitments. Public sector leaders need to introduce bold policy reforms to enable the transition towards a circular economy, including by leveraging fiscal instruments to reduce plastic consumption. Business leaders need to mobilize investments in smarter packaging and alternative materials. The transition may seem expensive at first, but these costs are far less than the social and environmental costs resulting from inaction."
Fionn Ferreira, 20
In 2019 Fionn was the winner of the Google Science Fair for his method of extracting microplastics from the water. An Irish scientist and innovator, Fionn has since founded his own enterprise, creating a device to efficiently remove microplastics while also partnering with a global engineering firm to fine-tune his designs.
" We need to hold companies responsible for the waste that they directly or indirectly produce. A standard "seal of circularity" could be created, awarded to products and services designed with reuse in mind. Governments should also incentivise the production of products made from a limited number of plastic types, making it easier to sort and recycle plastic waste, as well as restrict single-use products."
Forbi Perise, 24
Known as the 'plastic man' in his hometown in Cameroon, Forbi led a plastic collection campaign in his community, one in which recycling was virtually nonexistent. Forbi collected 5,000 plastic bottles and convinced one of the sole recycling companies in the country to collect his load. He aims to educate his community on plastic pollution to build a movement to improve his country's waste practices.
" Firstly, the circular economy for plastic should be included in national strategic plans. Secondly, the government should provide support to entrepreneurs pursuing innovation for the circular economy and invest resources into related infrastructure. Finally, to facilitate behavioural change, governments and businesses need to make space for the participation of citizens."
Hannah Testa, 18
At the age of 10, Hannah realized that one of our biggest environmental problems was one we can control – plastic pollution.
In her home county in Georgia, USA, Hannah played a role in creating a 2019 law to eliminate single-use plastics from government properties.
In 2020, Hannah was part of a group of advocates that introduced federal legislation - the Break Free from Plastic Pollution Act - in the US Congress.
" We need to divert from single-use plastics and incorporate more recycled plastic in production. We need to close the market for single-use plastics by cutting subsidies to the price of oil, which is the main component in making plastic, and stop subsidizing the plastic polluters."
Inés Yábar, 25
Inés co-leads L.O.O.P. (Life Out of Plastic), a Peruvian social impact company with an ambition to conserve the marine ecosystem. Inés co-created a national campaign on plastic waste, culminating in an annual weekend clean-up where citizens collected data on the debris. Ultimately, the data led to the adoption of a national law in Peru banning single-use plastic.
"We need to work collectively to ensure all actors are held accountable for a more circular economy. Civil society and the public and private sectors need to work hand-in-hand to make sure we don't just promise laws or actions, but we really deliver. We need a systems change, not an adaptation of the current consumption model that encourages us to use more."
Joshua Amponsem, 29
Joshua is the founder of Green Africa Youth Organization, a Ghana-based advocacy organization dedicated to environmental sustainability and community development. Pioneering community-based zero waste approaches in peri-urban locations, Joshua aims to formalize the informal waste sector and to provide green jobs to youth and women.
" Urgent investments are needed to advance research and technological development for reusable and regenerative packaging solutions. In emerging economies, a circular economy for plastics cannot be achieved without empowering and incentivizing consumers and the informal economy. The formulation of plastic waste policies must also include these micro-actors."
Melati Wijsen, 20
A self-proclaimed "full-time changemaker", Melati founded Bye Bye Plastic Bags with her younger sister at the age of 12. After working with like-minded people and organizations, their advocacy led to a ban on plastic bags, styrofoam and plastic straws on their home island of Bali, Indonesia, in 2019.
Today, Melati is excited about a new project, YOUTHTOPIA, which aims to empower young people to become changemakers.
"We need to set clearer goals and targets! We also need to ensure that there are no loopholes and that everyone is held accountable. Last but not least, invite and involve young people to the table! As I always say, 'we kids may only be 25% of the population, but we are 100% of the future."
Swietenia Puspa Lestari, 26
Inspired to do more with her scuba diving hobby, in 2015 'Tenia' founded Divers Clean Action (DCA), an Indonesia-based, youth-led organization focusing on marine debris clean-up. DCA has since developed expertise on integrating waste management systems on small islands and works with over 1,500 volunteers across Southeast Asia.
" We need to innovate like we are truly threatened by an environmental disaster, similar to our fear of the pandemic now. All leaders should involve youth and offer transparency in crucial decision-making processes. We cannot afford to lose any more time – we are destroying our nature, our planet."
No time like the present
With the clock ticking in the new year, the time for action is now. Concerted efforts on behalf of the private and public sectors, civil society and citizens alike will be needed to fully turn the tide on plastic waste.
Young people are at the fore of this change – though scientific innovation, progressive policies, new business models and shifting consumer behaviour, they are building a future where plastic pollution can be eliminated once and for all.
Source: World Economic Forum