Less plastic than expected in Tristan da Cunha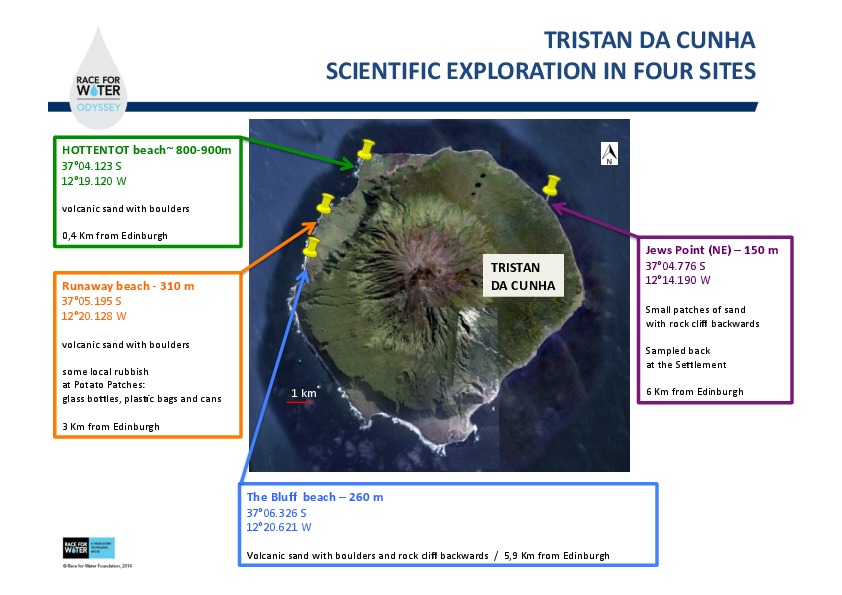 Race for Water Odyssey : LESS PLASTIC THAN EXPECTED IN TRISTAN DA CUNHA
Tristan da Cunha is the main island (96 km2) of the most remote inhabited archipelago in the world. This Britannic volcanic island is located in the South Atlantic Ocean north of the roaring forties. It was therefore a key stopover for the Race for Water Odyssey to complete its plastic pollution assessment in the 5 main gyres.
However as the MOD70 trimaran capsized last September in the Indian Ocean and due to the low frequency of ships going to this island (more than 2800 km away from Cape Town), our Race for Water team could not go there.
Luckily, thanks to Prof Peter G. Ryan, director of Percy Fitz Patrick Institute of African Ornithology in Cape Town, two scientists (Ben Dilley, Delia Davies) with the help of two locals (George Swain and Julian Repetto) have generously accepted to bring their support and deploy our protocol on 4 different beaches of the island: The Bluff beach, Runaway beach, Hottentot beach and Jews point (see these 4 sites on the map enclosed).

On these beaches, they found almost no plastic debris except some local debris in Runaway. Ben told us: "the rubbish at the potato patches in Runaway is not excessive like glass bottles, tins and plastic bags. However these local debris could end up on the beach in strong winds or when the river flows after heavy rains". He also explains that some local debris can be blown directly into the sea from the Settlement or the 1961 volcano crater that serve as an open dump.

Moreover, very few meso-micro plastics (tiny plastic particles, polystyrenes, pellets…) have been sampled and some quadrats did not even show plastic pieces that were visible to the naked eye.
Hence Tristan da Cunha is the island with the smallest quantity of plastic debris sampled during the expedition.
Nevertheless, prof Peter Ryan who has been studying marine debris for a while at Tristan, found a significant number of plastic pieces on the island (250 items) back in 1987 (P. G. Ryan, 1987). He also collected plastics on Gough island (88 items) and Inaccessible island (312 items), two other islands of the same remote archipelago. What is more, he observed an increase of 47% of the total number of artefacts from 1984 to 1988 during an accumulation study on Inaccessible Island (P.G. Ryan & B.P. Watkins, 1988).
It appears then, that prevailing winds and currents play a major role on the debris accumulation (West side of the island for Tristan). This time, before the sampling, to complete the Race for Water Odyssey, no recent storm had been noted. This may be one of several explanations for the small amount of debris stranded on the shorelines.
Peter G. Ryan, 1987. The origin and fate of artefacts stranded on Islands in the African Sector of the Southern Ocean. Environmental Conservation, Vol. 14, No. 4, Winter 1987. The Foundation for Environmental Conservation.
P.G. Ryan & B.P. Watkins, 1988. Accumulation of stranded plastic objects and other artefacts at Inaccessible Island, central South Atlantic Ocean, Vol. 18, No. 1, South African Scientific Committee for Antarctic Research.