Just 20 firms behind more than half of single-use plastic waste - study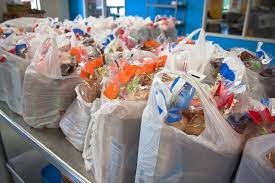 Just 20 companies are the source of more than half of all the single-use plastic items thrown away globally.
That's the conclusion of analysis of the corporate network behind plastic production.
The study looked at approximately 1,000 factories that make the raw materials needed for single-use products.
Plastic bottles, food packages and bags are among billions of items that are used once and then thrown away, often ending up in the oceans.
The research was led by Australia's Minderoo Foundation and a consortium including LSE, market researchers Wood Mackenzie and the Stockholm Environment Institute.
US-based ExxonMobil is the biggest producer of single-use plastic, the report says, followed by: Dow, Sinopec, Indorama Ventures, Saudi Aramco, PetroChina, LyondellBasell, Reliance Industries, Braskem, Alpek SA de CV, Borealis, Lotte Chemical, INEOS, Total, Jiangsu Hailun Petrochemical, Far Eastern New Century, Formosa Plastics Corporation, China Energy Investment Group, PTT and China Resources.