Fish Waste to Create a Unique Alternative to Plastic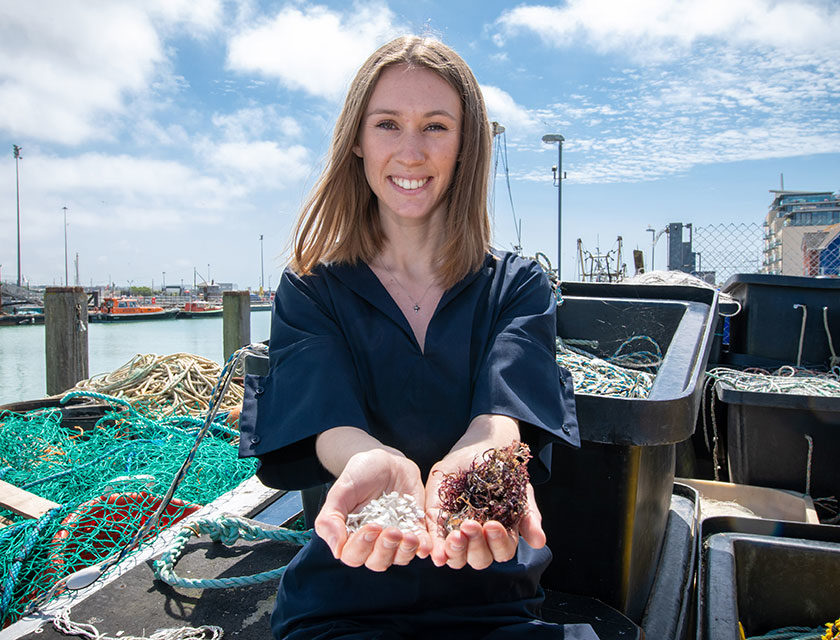 Lucy Hughes is $35,000 richer, thanks to her ingenious use of fish waste.
The 24-year-old student from Twickenham who attends the University of Sussex is the winner of the 15th annual international James Dyson Award. Her invention—a unique plastic alternative called MarinaTex—solves two problems: the ubiquity of single-use plastic (which is often inappropriately used) and massive fish waste from the fish processing industry.
Hughes studied product design and developed MarinaTex as her final-year project. Through extensive research, she found that fish skins and scales were the most promising materials to form the basis of a bioplastic, because they contain strong and flexible protein structures.
In order to allow these proteins to attach to one another to create a new material, she set about finding an organic binder. Determined to keep the solution local in order to reduce transportation, she looked to the coastline on her doorstep, experimenting with different organic marine binders before settling on agar.
Agar is obtained from the cell walls of some species of red algae. It is formed of agarose and agaropectin. The agarose is the gelling agent; its structure is very good at trapping water molecules and acting as a scaffold for proteins.
Hughes conducted more than 100 different experiments—mostly on the kitchen stove—to refine the material and process. She finally created a consistent and plastic-like material that was biodegradable and translucent, MarinaTex.
With the prize money, Hughes aims to commercialize her invention sustainably and conduct further research into how MarinaTex can become a global answer to the abundance of plastic waste.
"MarinaTex represents a commitment to material innovation and selection by incorporating sustainable, local and circular values into design," she says.
This year, the international James Dyson Award had the highest number of female entrants in the competition's history across all 27 participating nations. Unlike other competitions, participants are given full autonomy over their intellectual property.
The award is open to any university-level student of product design, industrial design or engineering, or graduate student within four years of graduation, who is studying or studied in Australia, Austria, Belgium, Canada, China, France, Germany, Hong Kong, India, Italy, Ireland, Japan, Malaysia, Mexico, the Netherlands, New Zealand, the Philippines, Russia, Singapore, Spain, South Korea, Switzerland, Sweden, Taiwan, the UAE, the UK or the United States.
Posted by Inventors Digest | May 11, 2020