First results of the Race for Water Odyssey 2015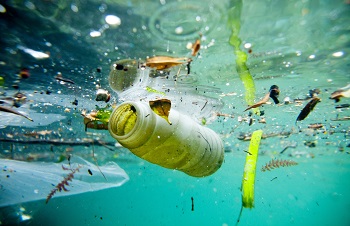 Dear Water Guardian Experts,
For those who didn't read it already, we invite you to have a look to our public report : Quantitative and Qualitative Assessment of Marine Debris Collected on Shorelines with first results from our 2015 around the World Race for Water Odyssey.
The Race for Water Odyssey was an environmental expedition which sailed in 2015 across the world's ocean to assess plastic pollution washed on beaches of islands located within and beyond the 5 major ocean gyres (North and South Atlantic, Pacific Oceans and in the south of the Indian Ocean, known to accumulate trash).
30 beaches were analysed following the NOAA protocol (1) in 9 different islands/archipelagos: Azores, Bermuda, Easter Island, Hawaii, Mariana, Palau, Mascarene, Chagos (BIOT) and Tristan da Cunha.
The macrodebris (>2.5 cm) and microplastic (< 5 mm) average concentration measured on each stopover are summarized here :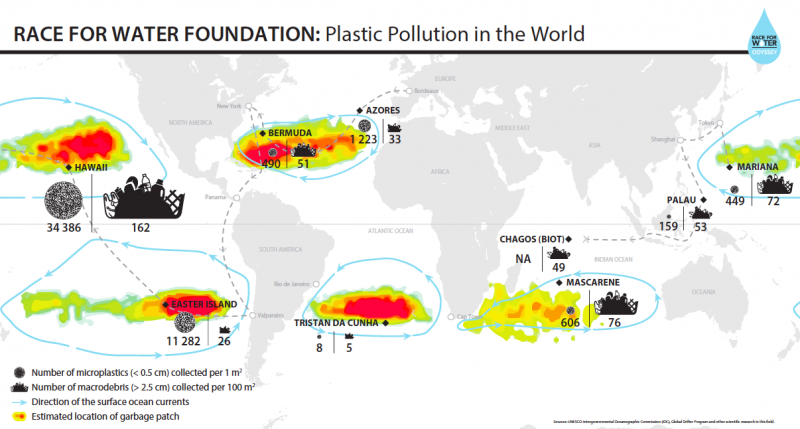 To understand the toxic effect of plastic pollution on the environment and the food web, microplastics samples collected during this Odyssey 2015, were analysed in collaboration with 3 university partners:
- Ecole Polytechnique Fédérale of Lausanne at the Central Environmental Laboratory (GR-CEL), Lausanne, Switzerland - Plastic debris identification and concentration (public report attached below)
- University of Bordeaux at the UMR CNRS 5805 EPOC Laboratory, Bordeaux, France: Microplastics toxicity on fish cell lines and larvae of fish (results expected for end-2017)
- University of Applied Science Western Switzerland at the Laboratory of the Haute Ecole d'Ingénieurie, Fribourg, Switzerland : Analysis of micropolluants adsorbed on microplastics (results expected for end-2017)
A high inter-archipelago and inter-beaches variability of marine debris concentration were obtained which is certainly due to the influences of local activities (local attendance, tourism, cleaning campaign, etc.) but also natural actions (currents, winds, vegetation, etc.) .
Hawaii is the most disastrous stopover of this Race for Water Odyssey 2015 with more than 3,500 macrodebris per 100 m2 and 94,000 microplastics per m2 in Kamilo. The majority of plastics particles recovered are derived from the degradation of larger debris. Other worrying data, such as the high pellets proportion in Azores, Hawaii and Easter Island.
Following these initial results, the foundation made the following statement:
- plastic pollution is everywhere, even on the most isolated and uninhabitated islands.
- plastics constitutes about 90% of the total waste collected on the beaches.
- a large scale clean-up on the oceans is not feasible.
We would like to thanks again for their precious helps on the beaches selection and sampling during this Race for Water Odyssey 2015:
Christopher Pham , Carla Damaso , Henrique Ramos , Victor Slof Monteiro , Paulo de Melo, Anne Hyde , Dr. Robbie Smith, John Singleton, Dr. Martin Thiel, Fernando Pardo Nunez, Piru Huke, Tuhiira Tuki , Dr. Marcus Eriksen, Kahi Pacarro , Maximenko Nikolai , Lamson Megan , Kallie Barnes , Manuel Mark , Grace Chon , Dr. David Hyrenbach, Suzanne Frazer, Chris Woolaway , Miki Tomita, Nicolas Turner, Duane De Soto , Arthur Cunningham , Laura Biggs , Brenda Atalig , Denise Reyes , Marybelle Quinata, Dr. Pat Collin, Dr. Yimnang Golbuu, Helen Stevens , Sally Kempson, Raffaut Runaulph , Jovani Raffin, Karin Minnaar , Henrick Bowman, Peter Ryan , Ben Dilley, Delia Devies, Georges Swain and Julian Repetto.
1: Lippiatt S., Opfe S., Arthur C., 2013. Marine Debris Monitoring and Assessment. NOAA Technical Memorandum, NOS OR&R-46.