As Microfibers Infiltrate Food, Water and Air, How Can We Prevent Future Release?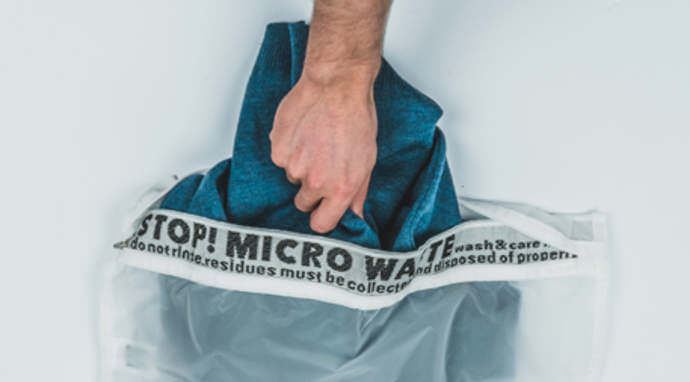 One approach to reducing the release of microfibers into the environment revolves around altering textiles to make them less likely to shed during everyday use or into water when they are washed.
Several years ago the European Union funded a three-year, $1.36 million project known as Mermaids that involved a consortium of European textile experts and researchers along with the anti-plastic-pollution group Plastic Soup Foundation. In May 2017, Mermaids issued a detailed report recommending changes in manufacturing synthetic textiles, including using coatings designed to reduce fiber loss. Thus far, no manufacturers have announced initiatives to test any of the report's findings or suggestions.
Before committing resources to testing new manufacturing methods aimed at reducing shedding, representatives of the apparel industry say they want to figure out how much different kinds of fabrics shed so they can appropriately target efforts to reduce microfiber pollution.
Once apparel makers know which fabrics are the worst shedders, the next step is to experiment with new approaches to yarn and fabric construction.
Biodegradable fibers
Another approach to reducing microfiber pollution could be to substitute biodegradable fabrics for the durable plastics used in most synthetic textiles today.
Vaude is testing biodegradable fibers. It already uses Tencel, a brand of lyocell cellulosic (wood-derived) polymer, in place of petroleum-based polymers in some of its products. According to Tencel manufacturer Lenzing, the fabric has been certified as biodegradable in seawater, based on a series of ASTM testing standards.
Mango Materials, a Berkeley, California–based startup, has been developing a biodegradable plastic using polyhydroxyalkanoate (PHA), derived from waste methane, for the past eight years. CEO Molly Morse and and her colleagues stumbled upon a winning recipe for a PHA fiber last summer.
"This is a type of polyester, so it has the same performance characteristics," Morse said. "It is hydrophobic, so it wicks moisture. We've not tested it for odor retention but it is quick-drying." Thus far, the textile industry has greeted news of the discovery with a lot of enthusiasm, she added. Mango Materials has been able to make small textile samples and is testing them for biodegradability in the Berkeley Marina.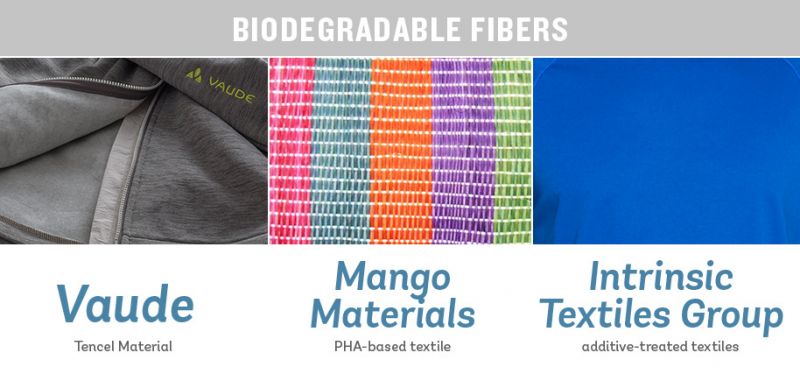 Vaude is using a biodegradable wood-derived polymer in some of its products. Mango Materials is working on developing a biodegradable plastic. Intrinsic Textiles Group makes an additive designed to hasten degradation of shed fibers .
Photos courtesy of Vaude, Mango Materials & Intrinsic Textiles Group.
Morse said it could take about two years to get to a point where the material could be mass-produced and used in apparel or other textiles. The company does not intend to sell its products to companies that will use common textile treatments that are also persistent pollutants in the environment, such as PFCs (per- and poly-fluorinated chemicals), she said.
Nick Mallos, who directs the Ocean Conservancy's Trash Free Seas program, said plant-based products such as what Mango Materials is developing might be able to "tackle some of the issues related to end-of-life impact" but that with any new type of plastics being developed to address pollution problems, "we have to be sure that they don't have unintended consequences."
"When we think about solutions for the ocean, at present biodegradable bioplastics are not a solution," Mallos said.
Another California company, Intrinsic Textiles Group, makes Ciclo, an additive designed to hasten the biodegradation of shed fibers in wastewater or within a marine environment when applied to synthetic apparel during manufacturing. Ciclo claims that microbes present in wastewater treatment facilities consume the treated material. Company co-founder Andrea Ferris said 10 percent of fibers coated with its additive are consumed, based on lab tests performed to measure the rate of biodegradation in a simulated anaerobic-digester such as those used to process sewage sludge from a wastewater treatment plant.
Ferris is working with four apparel brands that plan to release products using the additive next year. Some people, such as Karin North, watershed protection manager for Palo Alto, remain suspect of the company's claims, though.
"This seems too good to be true without knowing what the additive is made out of," she said.
A sewage stopgap
Laundering appears to be a key way microfibers make their way into the environment, and some washing machine filters — like those homeowners with septic systems sometimes use to reduce clogging — could become an effective way to keep microfibers from entering wastewater. In an unpublished study, microplastics researcher Chelsea Rochman of the University of Toronto found that a product called the Lint LUV-R collected 87 percent of all fibers released during washing. But installing such devices can be an expensive plumbing job.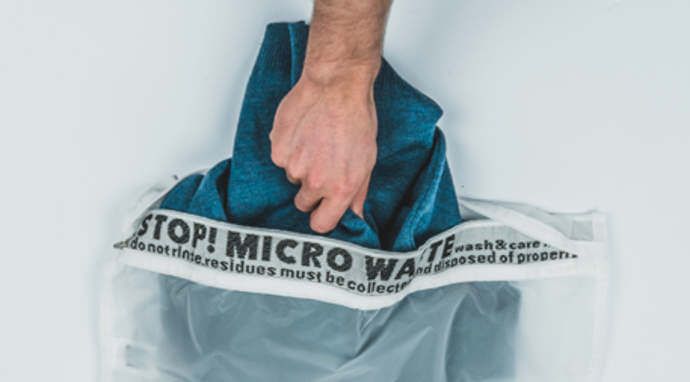 The Guppyfriend bag is designed to keep microfibers from laundry out of wastewater.
Photo courtesy of Guppyfriend
Rozalia Project, a nonprofit organization focused on eliminating microplastic pollution, produces a device called a Cora Ball that consumers can drop inside a washing machine to snag free-floating fibers; Rochman's lab found this device to be 26 percent effective. A German retailer called Langbrett also sells a fine-mesh bag, the Guppyfriend, designed to collect fibers.
Apparel brands have been calling for washing machine manufacturers to help reduce microfiber pollution for years. Miele, a home appliance manufacturer, is participating in the German Textile Mission study, scheduled to last three years, by providing its washing machines for testing of textiles. In Japan, many models of washing machines have integrated filters that trap fibers. U.S. manufacturers do not appear to have taken any public steps toward integrating filters aimed at preventing microfiber release.
Although the Association of Home Appliance Manufacturers is paying attention to microfiber pollution, "AHAM believes that this issue would be best managed early in the textile life-cycle," said association spokesperson Jill Notini.
"We need the appliance industry to play a bigger part," said Elissa Foster, senior manager in Patagonia's product responsibility division. "I hope that they are willing to come to the table and work with us on this."
Xeros, a company that makes specialized industrial washing machines that use plastic balls to clean textiles, announced that it has developed a special microfiber filter for domestic washing machines. The company's global sustainability director, Karen Mignone, said it can capture fibers with diameters of 32 microns or larger.
If true, this would be a boon, said Rochman. "There is no silver bullet, but I'd imagine a 30-micron [filter] is going to get 90-plus percent of fibers from going out the drain."
Weaving together
Developing a clear understanding of the extent and consequences of microfiber pollution — and what can be done to mitigate any negative impacts — will take meaningful, long-term collaboration among scientists, policy-makers, appliance manufacturers and the entire textile industry. But consumers ultimately may be the key.
Fast fashion — inexpensive but stylish clothing — "is where the change has to start," Silberman said, noting the tremendous volume of apparel that brands such as H&M and Zara produce, as well as the influence they have on the textile supply chain.
"This is definitely a real problem and it's also a problem that is way bigger than the outdoor industry," said Foster. "We need the whole apparel industry to take this on."
Read the full article at GreenBiz