Ad Creatives Prose Turning Growing Pile of Ocean Trash Into Country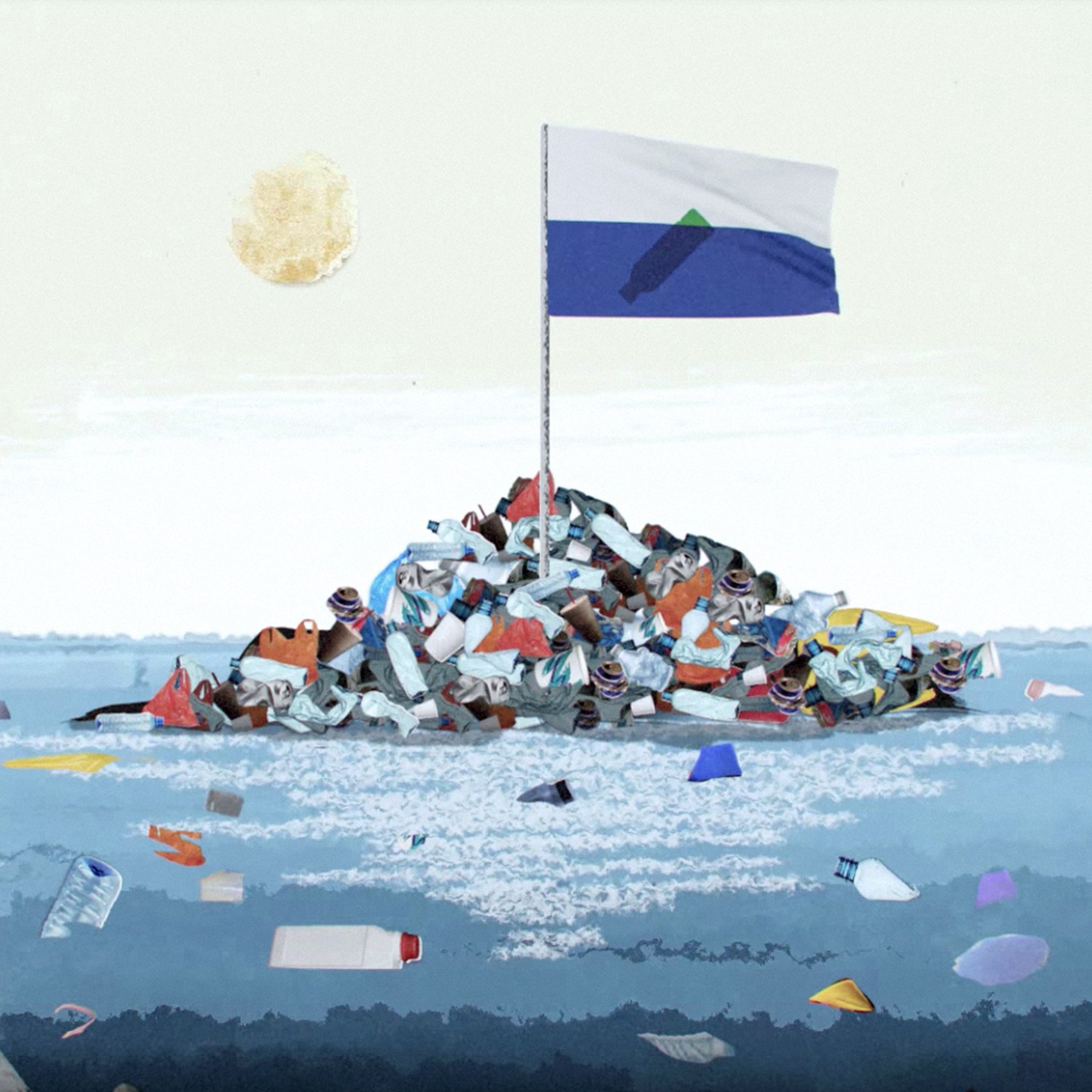 Petition launched to recognise Great Pacific Garbage Patch as a country.
A massive mound of plastic in the Pacific Ocean becomes a country with its own passport, flag and "Debris" currency, in this design proposal intended to raise awareness about ocean pollution.
The Trash Isles imagines the Great Pacific Garbage Patch – a pile of primarily plastic waste floating in the northern part of the Pacific Ocean – as an official country recognised by the United Nations.

To add gravitas to the proposal, London-based designer Mario Kerkstra has created a passport for the country
Advertising creatives Michael Hughes and Dal Evans De Almeida, known as Dal and Mike, launched the proposal to force world leaders to address the scale of the ocean trash, which they say has accumulated to the size of France.
"We knew that, even though the trash patch covers an area the size of a country, it is easy for world leaders to ignore it – the saying 'out of sight out of mind' could not be more applicable than with this issue," Hughes told Dezeen.
"We wanted to come up with a way to ensure world leaders can't ignore it anymore, a way to stick it under their noses, literally," he added.

The design features former US Vice President Al Gore, who is supporting the proposal
Dal and Mike are teaming up with social media news company LADbible and non-profit organisation The Plastic Oceans Foundation on the project.
They submitted an application to the United Nations earlier this year, coinciding with World's Ocean Day, to make the project a reality. They have now also launched an online petition through LADbible to support the application, and hoping to gain one billon signatures.

Stamps inside the passport are prints of floating plastic and fish entangled in rubbish
To add further gravitas to their proposal, Dal and Mike enlisted London-based designer Mario Kerkstra to create a passport, money and stamps for the country, which are all made from recycled materials.
"Working with Mario as a designer, we originated the idea to create everything an official country needs, so with him we designed a passport, money, stamps and a flag," Hughes explained.

"Debris" currency has also been designed, with illustrations by Tony Wilson
Kerkstra worked with illustrator Jürgen Willbarth at Illustration Web to create a blue passport with a bespoke coat of arms. Emblazoned with the slogan The Ocean Needs Us, it features a sea lion and a turtle, holding a shield bearing an image of a whale diving into the ocean.
Kerkstra also designed bank notes for the Trash Isle's Debris currency, which Tony Wilson at Jelly London Kitchen has illustrated with images of the ocean devastated by waste.

The 50 Debris note features a sea lion choked by plastic
One side of the 100 Debris note shows a seagull with its head through a plastic six-pack rings, while the other side presents a while diving into water with plastic bottles and bags floating on top.
The 50 Debris note depicts a sea lion tangled in a web of rubbish, while an octopus swims alongside floating waste on the 20 Debris note.
Blue stamps costing 0.30 Debris are also included in the Trash Isles paraphernalia. They depict birds, fish and other wildlife within a web of rubbish.

An octopus swims alongside floating plastic on the 20 Debris note
Dal and Mike hope that recognising the waste as its own country will encourage other world nations to clean it up, under the policy of The UN's Environmental Charter.
So far the the petition has attracted over 100,000 signatories – who are told that they can call themselves citizens of Trash Isle, known as Trash Islanders.

A set of blue stamps, costing 0.30 Debris, are also imagined to depict images of birds and fish within a web of rubbish
Former US Vice President Al Gore, actress Judy Dench, Olympic athlete Mo Farah and actor Ross Kemp have already signed up, and LADbible are posting promotional movies of some of these famous citizens.
"We're doing this to raise awareness of the massive issue affecting our planet and engage our audience to do something about it, whilst having a little bit of fun too," said LADbible's Stephen Mai, who is leading the campaign.
Dal and Mike hope that recognising the waste as its own country will encourage other world nations to clean it up
Ocean plastic is a huge concern for environmentalists, but has also attracted the interest of designers, who have developed a range of ideas to mitigate the problem and raise awareness.
Among the most well-known is Adidas' longstanding collaboration with Parley for the Oceans. Products in the series include trainers made from recycled plastic and of swimwear made from upcycled fishing nets and debris.
An Australian duo created a floating rubbish bin that filters litter from marinas, while Dutch engineering student Boyan Slat has developed a floating barrier to slowly push floating plastic to shore.
Source: Dezeen